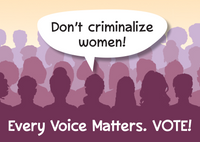 Help Us Turn Out Voters For Virginia's Crucial Election
All 140 seats in Virginia's State Legislature will be up for election on November 7th. We have the opportunity to gain the majority in the House and maintain Democratic control in the Senate. Let's mobilize Virginia voters to turn out in the odd-year election and make their voices heard!
Our second Virginia postcard campaign, to get out the vote, has SOLD OUT. Please sign up to receive notifications when we launch our next campaign!
Sign up for Notifications